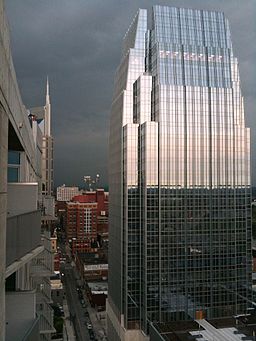 The Pinnacle at Symphony Place, a 29 story skyscraper considered Nashville's most expensive office tower is for sale.   According to industry reports, the move by owner Canyon-Johnson Urban Funds, is indicative of an increased interest in Nashville real estate.  According to The Nashville Business Journal, the 525,000 square foot building is listed by Eastdil Secured, and is expected to sell for nearly $150 million.
"The Pinnacle represents what is truly a trophy property…It's just blocks from the new convention center. It's clearly in the path of progress and where all the activity is" said Barry Smith, president of commercial real estate firm Eakin Partners in an April article from The Tennessean.
With rental rates averaging at $32 per square foot, The Pinnacle is downtown's most expensive property and houses notable tenants such as Bass Berry & Sims and Pinnacle Financial Partners.